RESIDENTIAL SIDING REPAIRS IN COLORADO SPRINGS
TECC Painting | 6650 Vincent Frontage Rd Colorado Springs CO 80918 | (719) 577-9300
PROFESSIONAL SIDING SERVICES IN COLORADO SPRINGS, CO
TECC Painting offers more than just interior and exterior painting services.
The key to a professional paint job lies in properly preparing your painting surface. The first step often includes carpentry services. Houses that have not been carefully maintained usually have rotten wood. This wood must be replaced before starting your painting project.
Wooden siding will often have rotting boards. As an old stain begins to fail, it will allow small traces of water to penetrate the wood. Over time, this will lead to the softening and eventual rot of siding and trim. It's not enough to just power wash and sand these areas. You will need to do a full board replacement to correct the problem properly.
Properly prepping your painting surface is essential for a flawless paint job. Carpentry services are commonly used in the initial phase of siding repair.
Carpentry services are commonly used in the initial phase of siding repair in Colorado Springs. However, as rotten wood is typical in houses that have not been appropriately maintained, your contractor should replace this material before starting the painting process.
Decaying boards are usual in wood sidings. Small traces of water will permeate the wood when the old stain begins to degrade. This causes siding and trim to erode and eventually collapse. Power washing and sanding these sections isn't enough. And to effectively solve the problem, you'll need to replace the entire board.
The siding pro must also fill woodpecker holes in wood-sided dwellings since woodpeckers leave small holes in your home exterior, allowing water and moisture to get in.
Whether you require carpentry services indoors or out, the highly qualified carpentry staff from TECC Painting in Colorado Springs will take every precaution to provide quality work for your pre-paint treatment.
FULL-SERVICE SIDING CONTRACTOR FOR COLORADO SPRINGS, CO
The last line of defense in your home's envelope system is siding. It safeguards your property's moisture barrier, flashing, and other waterproofing components.
Storms and inclement weather may strike, so homeowners need siding they can count on. Unfortunately, weather damage to your home's siding can be expensive and time-consuming to repair. Far worse problems might occur if the damage isn't addressed right away.
It's imperative to be proactive and arrange siding repairs with a reputable siding contractor. A competent siding contractor, such as TECC Painting in Colorado Springs, will professionally install, repair, and maintain your home siding to keep it safe from the extreme temperature, filth, humidity, and pests.
Unfortunately, storms aren't the only thing that might harm your siding, so you'll need to choose a reputable siding company. If your previous contractor put your siding incorrectly, it might need to be repaired or replaced sooner than you anticipated. Siding damage can be caused by a variety of circumstances, including:
Installation errors
Storm-related damage
Extreme weather conditions
Rust and rot
Damage from water
TYPES OF SIDING MATERIALS
Knowing which siding suits your needs is always useful during the repair process. And to help you grasp the range of materials that you can choose from, we have created this list just for you!
WOOD SIDING
The natural and unique aesthetic of wood is well-known and valued. It has a beautiful style that would neatly accentuate most exteriors. It comes in a limitless variety of shapes and designs, making it the most customizable option for your siding needs. However, like other materials, wood has drawbacks, such as the requirement for staining and painting every few years. Rot and insect infestations are common problems with wood siding as well. It's also relatively inexpensive and easily accessible at any lumber yard.
ENGINEERED WOOD SIDING
This is a cost-effective alternative if you like the look of the conventional wood design but are concerned about the upkeep. Compared to natural wood, engineered wood siding is made of composite wood elements and is resistant to insects, mildew, and mold.
HARDBOARD SIDING
One of the most common options in the market is a hardboard. It's constructed of wood plus a variety of other components that have been compounded. Although it has the appearance of genuine wood siding, it's not as durable as the real one. In some circumstances, hardboard siding might be pricey.
HARDIE BOARD
James Hardie created the Hardie board siding, often known as cement board siding or James Hardie siding. This siding material has been available for a long time, with its popularity among homeowners going up and down. It is made of fiber cement and has a high fire-resistance rating. Hardie board requires little to no upkeep, is long-lasting, and has exceptional weather resilience. Hardie board is a great siding choice for property owners searching for a virtually maintenance-free and incredibly robust exterior.
FIBER CEMENT SIDING
Fiber cement siding is today's most durable siding material. It's fireproof and will shield your home from many hazards like storm damage. It doesn't age or fade and can persist for many years. This siding never rots and comes in exquisite styles.
STUCCO SIDING
Cement, lime, sand, and water make a stucco siding. It is a thin finish coat applied to the exterior of residential and commercial structures.
Polymers and other compounds are used in modern stucco siding to maximize strength and flexibility. As a result, stucco is extremely long-lasting, with most warranties lasting up to 20 years.
STUCCO SIDINGS ARE CLASSIFIED INTO THREE TYPES:
SINGLE COAT SIDING
Just as it sounds, this technique only requires a single application, usually over solid foam board and lath.
DOUBLE COAT SIDING
It's commonly used in concrete, brick, and block structures. For example, bonding glue is used on the wall instead of a metal lathe before two coats of stucco are put.
TRIPLE COAT SIDING
Starting with an asphalt-infused paper, a layer of furred chicken wire, and a base layer of stucco, this technique uses three layers. Then, a final coat is applied to enhance the wall's texture and color.
PREMIUM VINYL SIDING
Premium vinyl siding is popular among property owners because of its exceptional durability and low maintenance needs. In addition, it's cost-effective and does not require painting. Premium vinyl materials come in various styles, patterns, and trim options for homeowners.
This is for you if you want a material that won't deteriorate like wood and doesn't require painting or staining to maintain its beauty.
INSULATED VINYL SIDING
Insulated vinyl siding is yet another option for premium vinyl siding. It has a shaped foam insulation layer that improves energy efficiency.
The insulated vinyl siding is an excellent choice since it combines sophisticated aesthetics with exceptional strength and reliable exterior protection. So, insulated vinyl siding is for you if you want to increase your home's energy efficiency and minimize outside noise while adding aesthetic appeal.
ALUMINUM SIDING
Aluminum siding is also regarded as one of the most durable types of siding, requiring just a once-a-year wash. In addition, it is resistant to any weather event like hail damage and will not fade over time. Although it was popular in the 1970s and 1980s, this siding material is no longer widely used.
STEEL SIDING
Steel siding is a classy exterior material that is sturdy, non-combustible, and takes little to no care for property owners. You won't have to paint steel siding, and it'll clean off quickly with a garden hose. Steel siding is popular among homeowners because it is more environmentally friendly than standard vinyl. In addition, a steel siding may last up to 40 years, making it an excellent asset.
BENEFITS OF HIRING A PROFESSIONAL SIDING CONTRACTOR
INCREASE HOME VALUE
A property with flawless siding appeals to potential buyers. Moreover, homeowners don't pay a lot for professional siding repair and maintenance.
BOOST CURB APPEAL
Even from a distance, an inspector can notice your home's siding issues. Your home will appear old and exhausted if it has a leaking roof and faded sidings. Professional siding contractors must repair and maintain your roof and siding to counter this. Even before they enter your home, people judge you and your home based on curb appeal. Roofs, sidings, and gutters that are well–maintained help keep your home looking great.
PRESERVE YOUR HOME'S STRUCTURAL INTEGRITY
The vast knowledge of professional siding contractors from TECC Painting is always valuable. They can replace your sidings professionally without affecting the structure of your home.
When homeowners forego professional house maintenance services, the outcomes are often less than satisfactory. But conversely, whenever you entrust your residence to professionals, you'll know that you won't require more repairs for an extended period.
FREE ESTIMATE AND CONSULTATION
When you hire a professional siding repair company in Colorado, you'll enjoy reliable estimates and reasonable pricing. A contractor will also keep you updated on market trends and may even advise you on the best materials to use.
HIGH-QUALITY SIDING REPAIR SERVICES FROM TECC PAINTING
You talk. We listen.
Because they save time and money, our clients appreciate our quality workmanship, consistency, and readiness to undertake siding repairs. We also train tirelessly to be accountable for the quality of your property, keeping the job site clutter-free throughout the project.
So, whether you're building a new home, upgrading your existing one, or have experienced damage from inclement weather, Colorado Springs siding contractors from the TECC Painting team is here for you!
Our siding pros are happy to guide you in selecting the suitable material for your personal needs, objectives, and house setup. Since we consider your house the cornerstone of your life, we know that excellent reliability is essential for such a significant investment. You've come to the best place if you're browsing for a siding contractor you can rely on.
To give you the home you've always dreamed of, call us to request a free consultation and get your free estimate today!
Wind and Hail Damage on Siding
A storm in the Colorado Springs area can inflict various types of damage on your home's siding depending on the material. Take this for an example, wind or hail damage on vinyl siding can cause chipping or holes while aluminum or other metal sidings are more likely to experience dents. If you think that your home have experienced hail damage and will need repair don't hesitate to call our expert hail damage repair team today! Contact Us.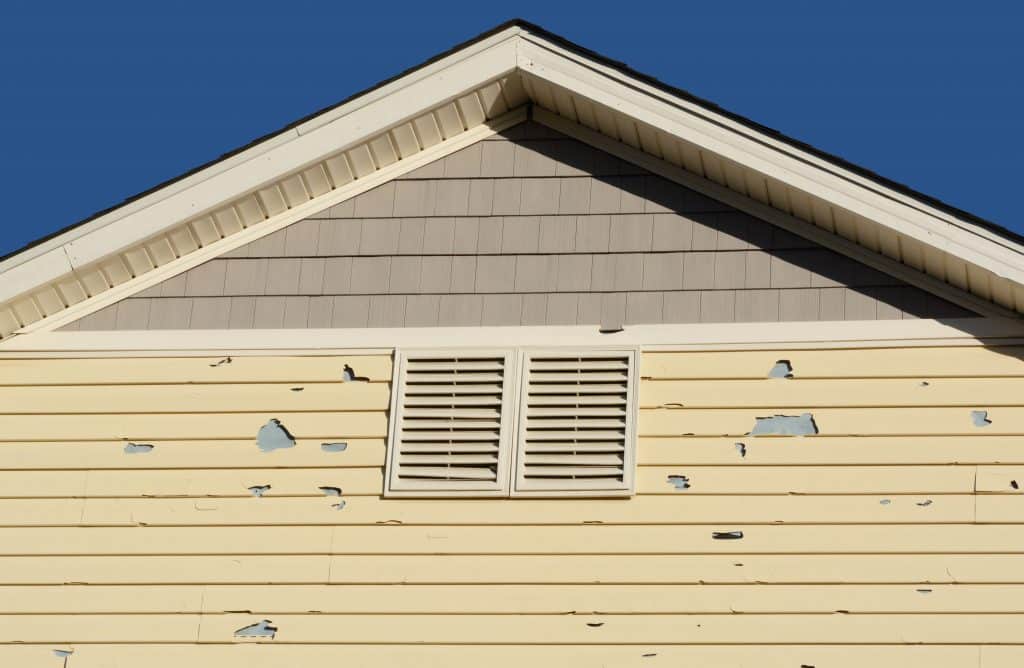 Frequently Asked Questions
We Provide the Best Quality Painting Service